Here's another of those sketches I wrote while living in Paris back in the 1980's. (The previous ones were April in Paris and The Men of Paris.
 I didn't get much sleep last night thinking about
underwear
Have you ever stopped to consider underwear in the
abstract
When you really dig into it
some shocking problems are raised
Underwear is something we all have to deal with
Everyone wears
some kind of underwear….
From the poem, Underwear, by Lawrence Ferlinghetti
What kind of underwear people do, or don't wear never used to interest me much.  Until  I went to the Club Gymnase in Paris.  Three times weekly, after my aerobics class, I find myself jammed into a steamy room with sweating women from a culture very different from my own.  What's the biggest difference between them and me?
Their undergarments.  No, I correct myself.  That utilitarian word, undergarment, doesn't work here at all.  Their lingerie.
Frothy bits of lace for bras.  Low cut or sheer, black, red, or pink.  Panties that always coordinate with the bra, little ruffled bits cut high on the hips, or thongs.  Satiny camisoles with lace-edged tap pants.  Garter belts holding up white lace stockings.  Silk.  Lots of silk.
These are women coming in from the office during their lunch hour.  Or housewives taking a break from their cleaning or marketing.  And they wear delicate silken bits of nothing.
I've never owned silk lingerie.  It's too expensive.  Has to be washed by hand.  Too fragile.   And here is this locker room full of Parisians, all wearing the type of garments I'd save for the most special of intimate moments, as part of their daily wardrobe.
I catch them glancing at my sturdy, practical, non-matching underclothes with looks that say, "Oh, you poor woman!"
Now I've started noticing all the shops.  Of course, the big department stores, like Galerie Lafayette and Printemps, all have large lingerie departments.  But so do Macy's and Nordstroms.  That's not unusual.
What's new to me are the neighborhood shops.  Every residential area has its own boutique.  Mine has two, one two blocks to the right and one four blocks to the left.  One is called Seduction Couture.  The other sells Christian Dior designs, with brassieres in the window priced at $150 each.
The first time I went into one of these shops in Paris, a business-like woman waited on me.  When I said I didn't know what my size would be in French measurements, she walked behind me, ran an expert hand across my back and authoritatively said a number.  To get the cup size right, she matter-of-factly grabbed a breast in each hand.  I was surprised, but she got the size spot on.  You can't argue with success.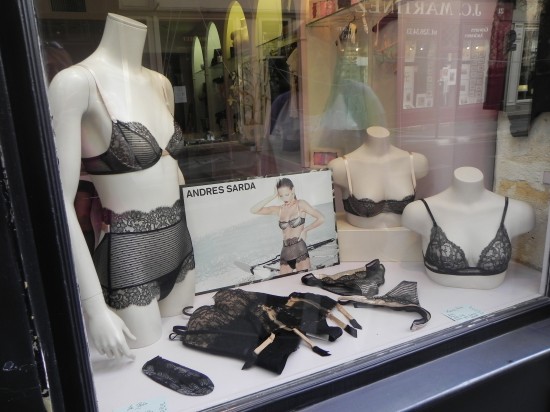 You have seen the underwear ads
For men and women
So alike but so different
Women's underwear holds things up
Men's underwear holds things down
Underwear is one thing men and women have in common.
From Underwear by Lawrence Ferlinghetti
Both sexes may wear underwear, but the French take full advantage of its advertising possibilities to boldly and enthusiastically say, "Viva la difference!"  Last summer, Aubade, one of the major lingerie labels, planted a sensual series of posters at bus stops throughout France.  One showed a female torso, from mid-thigh to neck, clad in scanty bits of lace.  A man clutched her waist and pressed his face to her stomach, transported by the throes of desire.  The caption read, "Aubade pour un homme." (Aubade for a man).
The streets, metros and department stores are full of ads like these.  Exposed female flesh is always in evidence, beguiling the consumer to buy.  And not just lingerie.  Topless women sell suntan creams and skin-firming lotions in pharmacy windows.  Printemps sports a six-foot poster on one wall of its cosmetics floor of a woman rubbing a potion onto her bare breasts.
In fact, the array of products the French can sell via nakedness is ingenious.  The prize goes to a series of posters plastered over Paris a few years ago.  The first showed a front view of a young woman in a bikini.  The caption read, "On September 2, I take off my top."
Sure enough, on September 2 the same woman appeared at all major intersections and pedestrians walkways, topless, with the message, "On September 4, I take off the bottom."
All Paris buzzed. Who was running this campaign?  What were they selling?  And would they dare show a completely naked woman?
The answer came on September 4, with the same woman, nude, shown from the rear, and the message, "Avenir, the company that keeps its promises."  Avenir is a billboard advertising company.
All this flaunted female perfection depresses me.  Realistically, nothing would make me look like all these nubile naked women.
Then one day, I got some revenge.  The perfect naked man appeared.  On a billboard, larger-than-life size.  Right by the entrance to my metro stop, where I could see him every day for a month.  I never did notice, though, what he was supposed to be selling.
But back to Lawrence Ferlinghetti and his question, "Have you ever stopped to consider underwear in the abstract?"  My answer is, obviously, yes.  I've considered what affect all this lace and satin under everyday work clothes have on the psyche of the women wearing it.  Do they feel differently about being women than my American friends or I do?  Do they feel compelled to live up to the images in the ads?  Do they feel inadequate when they can't?
I've raised these questions with some of my French friends, but I've never gotten an articulate answer.  I don't think they understand my questions because I'm asking them about elements of their environment they take for granted.  This is what they've been raised with.
Imagine asking your mother how her self-perception was shaped by wearing a Playtex cross-your-heart bra and 8-hour living girdle.