Ten years after the incident in New York, surrounded by a different cast of characters and on another continent, I kidnapped my second man.
On a sunny June morning in southern Scotland, Alan, my former husband, our friend Reggie (who wrote One Man's Viewpoint) and I dropped Reggie's current squeeze, Rachel, at the gates of an ancient castle for a day of history, antiques and gardens, with a promise to pick her up at the 4 p.m. closing time.
We were intent on more vigorous activity.  Our aim was to follow the ancient cattle drover's trail that Reggie found in a guide book.
We parked our rental car next to a gypsy caravan, found the trail exactly where the book said it would be and headed out.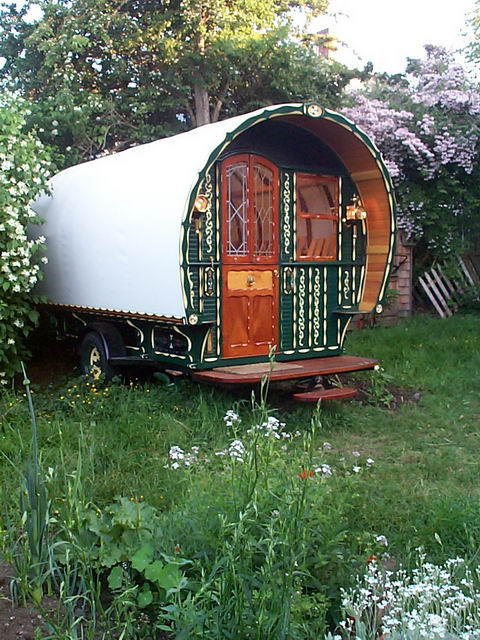 Three hours later we lost all trace of the ancient drovers and their trail.  Nothing in the guidebook matched the scene around us.  We retraced our path 20 minutes back and still found nothing.
After another hour and a half of unguided roaming through the rolling lowlands of Scotland, we found a tiny house on a tiny windy road.  Reggie, acknowledged by all three of us as the most charming,  was sent to the door as our emissary.
He rang the bell.
He waited.  We waited.
He rang the bell again.
The door opened.  He disappeared inside.
Ten minutes later he reappeared, alone.  He rejoined us on the road.
"They offered to drive us to our car," he said.
Great!" Alan and I said in unison.
"They said it's about a two-hour walk away from where we are now."
"Where's the car!" Alan said.
"They were going to charge us.  Can you believe that?"  Reggie replied, his voice dripping with indignation.  "Tired, hungry, lost strangers and they were going to charge us $20 to drive us to our car."
He paused a moment to let the enormity of this unimaginable lack of hospitality sink in.  "I refused," he said.
Alan and I had forgotten that, along with being the most charming of us, Reggie was also the stingiest.
We trudged on, the romance of following the path of ancient drovers as lost as we were.
An hour later, Alan said, "I haven't seen any wires for 30 minutes.  No electric wires, no telephone wires.  This is not a good sign.  We've lost civilization completely."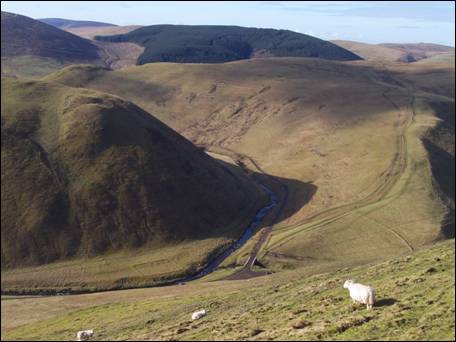 Then we crested the hill to find civilization in the form of a road.  Not only a road, but a road with a car driving on it, not too distant from us and heading in our direction.
By now, we were 30 minutes late to pick up Rachel.  I said, "We should flag this car down."
"We can't do that," Reggie said.
"Why not?"
"Well, for one thing, the  car's too small.  For another, the driver will never stop for two guys and a woman," he answered.
I issued an order.   I was not a woman to be messed with.  "Drop down into the ditch!"
I stepped into the middle of the road.  I waved my arms.  The driver of the tiny two-seater hatchback with a bicycle  jammed into the back had no choice but to stop.
"I need a ride." I said.
"Climb in," he answered.
I unlatched the door of the hatchback and started to climb in.
"Why are you doing that?  There's plenty of room up front, next to me," he said.
"Oh no, there's not.  There are three of us and two of them are men."
I waved at Alan and Reggie as I folded myself around the bike.  "My friends are going to share the front seat," I said as they appeared on the passenger side of the car.
The driver gaped at me as I pulled his hatchback door down on my head.  Then he looked at Alan, now seated next to him and at Reggie, ducking his head and squeezing in to sit on Alan's lap.  Reggie started describing the spot where we left our car.
The driver responded slowly and quietly, "I know the spot.  I saw the caravan this morning.  That must have been your car parked next to it.  It's about 20 minutes out of my way."
"Good.  That's not bad," I said.  Glad you can take us there," I added.
The gates of the castle had slammed shut behind Rachel 45 minutes ago and we had another 40 minutes of travelling before we got to her.  I wasn't about to tolerate any negotiating about where we were or were not going.
The gypsy caravan was right where it was supposed to be, as was our car.
When we finally got to the castle, an hour and a half after closing time, Rachel was sitting on the grass by the road, outside the castle gate, paging through a book on Scottish castles she'd bought that day.
After hearing about our adventure, she closed her eyes, leaned her head back against the car seat and said, "I can hear him now, this poor hapless guy, telling the tale of the American madwoman who kidnapped him, 'There I was, minding my business, toodling along the road, happy as a lark, when this woman with crazy eyes, wild hair and torn clothes jumped into the road…………….'"