Sleep.  That must have been what we were talking about.  I can't think what else would have gotten this particular group of women talking about this particular topic.
I was meeting with six colleagues, all women, ages 35 to 65, all professionals.  Our leader was late, so we chatted idly in the way that co-workers who aren't close will chat.  One of them, I don't remember which one, asked the question.
"What do you wear to bed at night?"
The answers were standard fare, t-shirt and panties, sleep shirt and panties, night gown.
Then, it being summer, I said, "Nothing."
That silenced everyone.  Six pairs of wide, astonished eyes focused on me.  No one spoke for a moment.  Then one of them said, "You sleep naked?"  Her tone implied that she had deleted the understood phrase, "You brazen hussy."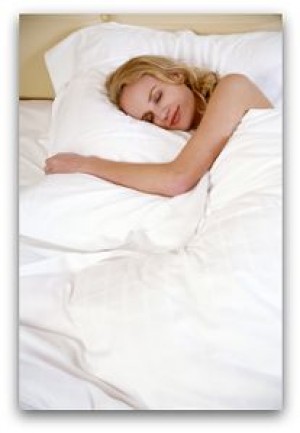 What's wrong with sleeping like this?  Cool, comfortable and practical, to my mind.
All six pairs of eyes said, "Get yourself out of this one, Georgia."
Problem was, I didn't know what I had to get myself out of.  Here was a social norm apparently known by the sisterhood of working women, except me.  What's so abhorrent about diving into the sheets at night with just bare skin?
Okay, if you're a mom you might have to deal with late night kid
situations that would make having clothes on convenient.  But I wasn't the only empty nester at that table.
I fudged.  "In winter, I wear flannel pj's.  But in the summer, it's just me."
Tell me, what is it that the vixen divorcee didn't get in this conversation that left such a dense vapor hanging over the conference table?