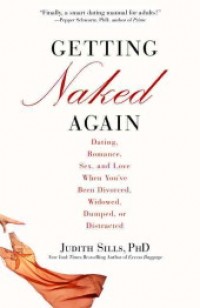 This book came to me through my girlfriend network.  Recent divorcee, Darlene, regaled my married friend, Susie, with tales of the contents of the book, Getting Naked Again.  The book gave Darlene the impetus to hop on a plane for a weekend of adventure with a single male acquaintance of hers.  Her goal was to get over her fear of sex with someone other than the man to whom she'd been married for 25 years.
I don't know her well enough to ask her if it worked.  Nor is that  a question Susie would ever ask anyone.  So, as much as I'd love to hear the story of whether the tactic worked, I'll never know.
I took the title a bit too literally.  Read my diary entry, Your Naked Body, and you'll know my anxiety around this topic.
However, the book offers ways to analyze whether you're ready to take this step, as well as strategies to meet a man so you have someone with whom to get naked and how to handle those first dates.
I read it months ago.  Well, make that over a year ago, so much of it is a faint memory.  Guess it didn't do the job, because I'm still chaste.
I'm sitting here at my desk scanning the chapter titles:  Recovery or Would I Sleep with Eisenhower; You Bleed or You Thaw; Sexual Mentors, Palate Cleansers, and Other Transitional Relationships. 
Hum.  Maybe I should read it again.  Maybe I'm ready for the message.