Memories
By Spector & Cohen
From the album, Death Of A Ladies Man
Frankie Lane, he was singing Jezebel
I pinned an Iron Cross to my lapel
I walked up to the tallest
and the blondest girl
I said, Look, you don't know me now
but very soon you will
So won't you let me see
Won't you let me see
Won't you let me see
Your naked body?
Listen to Leonard Cohen sing this, with all that boy anguish, desire, impatience pouring from his raspy voice.  I'm sitting on my bedroom floor, eyes closed, listening to the CD and seeing the 16-year-old boy cross the gym floor, struggling to control his body, his throat tight with a thousand inchoate needs and thoughts.  I see the girl, controlling the moment.
We may not have heard or spoken, you and I, those exact words in our youth.  But, surely, we  heard or spoke words much like these all those decades ago.
And just as surely those sentiments are expressed with more finesse now that we've matured.  I'm thinking of this snippet of a party flirtation from the life of my friend, Brenda.
He:  "You look beautiful tonight.  That dress looks perfect on you."
She:  "Why, thank you."
He: " I can think of only one place it'd look better."
She:  "Oh, really?  Where?"
He:  "Crumpled up on the floor at the foot of my bed."
Interesting variation on the theme, don't you think?
So why is it that I get stuck hearing those adolescent words at this stage of my life?  Because that is exactly what he said, "I want to see your naked body."
It doesn't matter who the "he" is.  One of the men drifting around the perimeter of my life.
Couldn't a man in his late 50's come up with something more profound?  More poetic?
I'll give him credit for the sincerity and straightforwardness.  But, really?
I was stunned by the bluntness.
Then there's the thought of me, naked.  This aging body, with no clothes on, alone in a room somewhere, with some man.
Scary.
That's why I'm sitting on the floor of my bedroom, listening to this song.  I have in front of me a hat box.  This box usually sits on the top of my armoire.  I had to use a foot stool to get at it.  Strewn around the hat box are its contents; a lifetime of photos and love letters, starting with my freshman year in college.  Two of the photos rest face up in front of my crossed legs.
I'm looking at my 20-year-old naked body.  Actually, our naked bodies, since my lover is with me.  In the photo on the right, I'm lying on my back in bed, he's bent over me.  Our eyes are locked on each other's, our mouths open in laughter.
In the photo on the left, we've assumed a pose inspired by John Lennon and Yoko Ono.  We sit naked side by side, cross-legged, staring deadpan into the camera, elbows intertwined.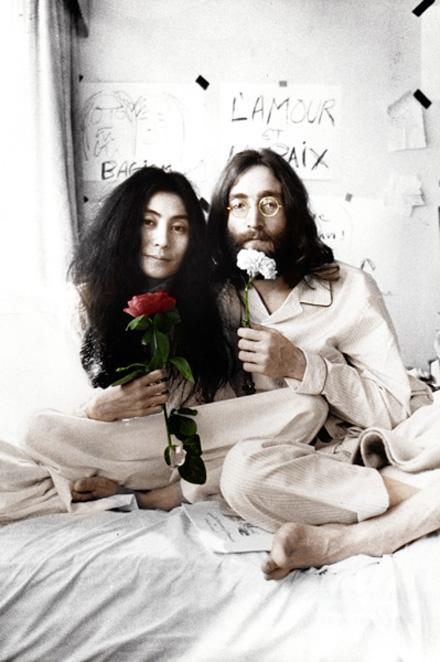 I remember when my amateur photographer boyfriend took those photos, and later, how I helped him develop them in his dark room.
My breath slows and deepens, stillness spreads through the room as I look at those two photos.  So lovely.  We were both so lovely.  So tender, so innocent.
I don't remember the first time we made love.  What I do remember is him playing his guitar and singing for me.  Leonard Cohen.  He's the one who introduced me to Leonard Cohen.
 Sometimes I see her undressing for me,
A soft naked lady love meant her to be,
And she's moving her body so brave and so free
That's something to remember,
That's a fine memory.
Even though I can't remember that first time, of one thing I'm sure.  Young Georgia was confidant, as she took off her clothes, or as he took them off for her, that her naked body would delight.
And what about now?  That's the scary thought.
A couple of weeks ago the women's locker room at my gym burst with the exuberance of a group of teenage girls primping, joking, texting, gesticulating as they talked to each other.  One of them bumped my arm with one of her broad gestures.  When she apologized, I told her, "Didn't feel a thing."
Then she smiled at me and said, "I have to tell you, lady, you've got a great body."
I beamed, said, "You've made my week!  You have no idea what that means, coming from a beautiful young woman," and I hugged her on my way out the door to an aerobics class.
That memory brings me back to the 50-something guy saying, " I want to see your naked body."  What he saw is the form that still fits into the same size dress I wore when I was 30, the form that actually looks good in spandex.  But those clothes cover up a lot of years, a lot of aging, a lot of changes.
I look at those two photos on the floor in front of me and wonder if I will ever again have the confidence to move my body so brave and so free.
And how about you, my friends?