You've read about how I met my husband in Some Enchanted Evening.  I invite you to share the inevitable next step of our courtship.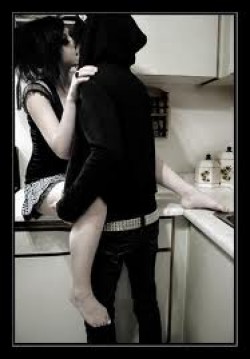 How about a little fun?  How about a story about a first kiss, that led to a second kiss, that led to years and years of kisses.
This is where Alan kissed me the first time, in my kitchen, with his body pressing mine into the edge of the counter.
A midsummer's eve, with us racing up the back stairs to my apartment so I could grab something and we could rush out the front door to his car and the next place we had to be, the next party of friends who were waiting for us.
 But he grabbed me, pulled me back before I got to the kitchen door, pulled me back and pressed me against my cupboards.  He kissed me.  This man who had been so shy kissed me.  Deeply.  Meltingly.  One long, long kiss.
That was all it was, just a kiss.  The two of us together, lips to lips, body to body, just that, nothing more.  All the electrified longing between us jolted from head to toe, with our mouths as the conduit.
All my life before him stopped with that kiss.  All my life to come began with that kiss.  Nothing existed except that kiss.
Just a kiss.  Then off in his car to a party.  With nothing the same, ever again.
Now, how about sharing your first kiss stories.  I told you mine.  Tell us yours.