I met my friend Ryan for coffee two weeks ago.   (You first met Ryan in Solace for a Grieving Heart #2.)  He was in town for a little R&R after all the upheavals in his life; he'd lost a job, moved across country for a new one, gotten a divorce, all within six months.
I said to him, "Next year has got to be better for you than this year."
His reply was a laugh, followed by, "Losing that job got me into a new town that I like and a job that has my creative juices flowing again.  My marriage was stifling me.  Without all of this, I never would have known how much I love to dance."
I thought, "I've got to stick around this guy.  Let his attitude rub off on me.  He's approaching Buddha-hood here."
He slipped a book across the table and said, "Speaking of which, I picked this up for you, Georgia."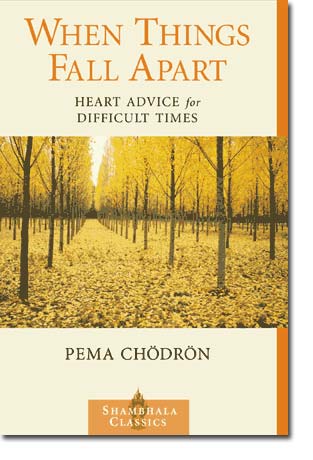 Just two weeks before, my friend Susie told me about the same book.  She mentioned how deeply it got her thinking about life and how to deal with its challenges.  In two weeks, two people I respect told me about the same book.  I figured I should pay attention.
This is what the jacket cover told me:
There is only one approach to suffering that is of lasting benefit, Pema teaches, and that approach involves moving toward painful situations with friendliness and curiosity, relaxing into the essential groundlessness of our entire
situation.  It is there, in the midst of chaos, that we can discover the truth and love that are indestructible.  Included in the book are:
  Ways to use painful emotions to cultivate wisdom, compassion, and courage;
Methods of communicating that lead to openness and true intimacy with others;
Practices for reversing negative habitual patterns;
Techniques for working with chaotic situations; and
Tools for cultivating compassionate, energetic social action.
I can't say I've mastered the art of moving toward painful situations with friendliness and curiosity.  Nor have I attained Ryan's level of peace and balance.  But, next Friday I'm going to the ashram just down the street to learn how to meditate.
Stay tuned for the new mellow, centered Vixen Divorcee.