Coco Chanel said, "A woman who doesn't wear perfume has no future."
As of this Valentine's Day, at least one American woman can be guaranteed a future, because she'll celebrate Valentine's Day wearing Ubar, the perfume from Oman.
I know this because I started my Friday off early by knocking on the door of my friend Peter's home.  Remember Peter from Ah Have Always Depended Upon…..?   He's the man who carried my 9-foot-tall Norfolk Island Pine up three flights of stairs as if he were carrying a tea cup.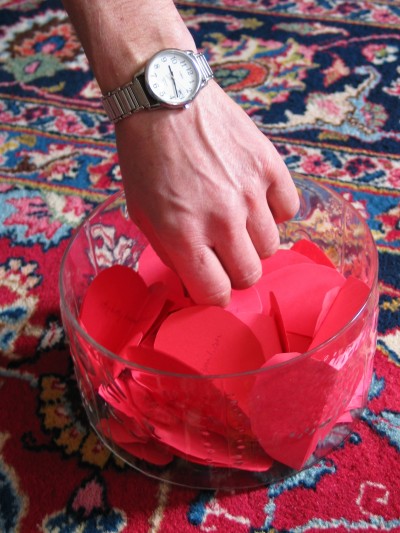 This morning he turned all that strength to the delicate task of tenderly picking one heart out of a bowl filled to the brim with pink and red hearts.  Each heart represented one new subscriber to The Diary of the Vixen Divorcee, or one previous subscriber who had recruited a new subscriber.
I wish I had the resources to give a bottle of perfume to everyone who qualified for the
drawing.  I don't.  Instead, one lucky subscriber, a man, received an early morning email from me telling him of his luck.  The bottle is now winging it's way to his office and will be in his hands by Monday.  I'm assuming that he'll share it Tuesday with his lady love.
Because of the respect for privacy that is a basic premise of this blog, I can't share his name with you. Perhaps he'll leave a comment for us on this posting to let us know how the unexpected and exotic gift was received.  I  encouraged him to do so.
My thanks go to all of you who read and subscribe to this blog.  I wish you all a delightful Valentine's Day.
In fact, perhaps after this barrage of tales of romance and Valentines that I've sent your way in the last nine days, you'll share one of your favorite Valentine stories.  What has been the most romantic, the most surprising, the most unexpected Valentine of your life?  Your story would be a treasured Valentine gift.