Alan, my former husband, and I concocted our fantasy business while idling in coffee shops and wine bars.  The mission of this company was to help broken-hearted lovers bring closure, dramatic and final, to their relationships.  We were inspired by Paul Simon to help people in pain with their struggle to be free.  We, of course, were never going to be in pain, never struggling to be free.
We never came up with more than 10 ways to leave your lover.  One of them involved this poem which floated in Alan's head, continually shifting.  My apologies to the unknown original poet.  I hope I haven't butchered your creation too much.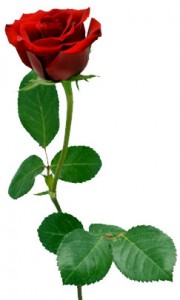 Love and the Lost Rose
 As I look across the still, dark grave of Eros
I can see by your incurious eyes
that I am but one of many poets
who has sung soft praises of your beauty.
Lasting love never bloomed in your heart from
the tender syllables I whispered in your ear.
So, you are leaving me now,
and as you turn to go for this, the last time,
take with you this rose.
As its red petals fade and fall,
and as its green leaves shrivel and drop
like the days of our love,
Take what is left,
this long,
thin,
thorny stem
and shove it up your ass.
I never got to use this, even though love shriveled in Alan's heart.  How could I, since the idea was his?
Take it, it's yours now.  Use it as you see fit.  If it releases the pain at all, if it sets you free just a bit, let me know.
And let me know how to really leave a lover.