Ryan lay on the operating table, partially sedated and dazed from rushing across
town in an ambulance.  His problem was heart failure brought on by a congenital heart defect.  The surgeon touched him gently on the arm and said, deep compassion in her voice, "I never operate on anyone I don't know.  My name is Mary.  Pleased to meet you."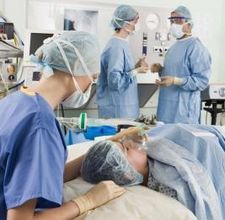 Ryan looked in her warm, caring eyes and said, "We've already met.  I've held you in my arms."
The expression on her face shifted, the compassion replaced with distaste.
He added, "We've danced together.  At the
Arthur Murray studio. My best dance is the mambo."
She checked his medical chart, reassembled her features into a smile and said, "Of
course.  Ryan.  Well, we're going to have you back on that dance floor in record time."
His last comment before drifting off into the twilight world of anesthesia was,
"You better, 'cause I'm in a dance competition in two months." (Remember meeting Ryan in Solace for a Grieving Heart #2?)
Mary visited him every day of the next two weeks he was in the hospital.  During that time he learned she, like him, was new to town.  Like him, she'd moved for a great job.
He took up dance for the exercise, social contact and a focus to help him heal
from a divorce.  She joined because as a single woman in a big city, her first four years had been nothing but sleep and work.  Now, a year into her life as a dancer she had friends and a social life.
Ryan didn't expect that a benefit of learning to dance would be an accelerated
healing process, but that's what it did for him.  Between Mary's focus on his recovery, and his dance instructor's insistence that he prepare for the regional contest, Ryan
was on that dance floor two months after surgery.
He walked off it with first place in mambo in his class.  Exercise truly provides solace to a grieving heart.
Ryan isn't part of the contest in this video, but give him a year or two…..  Think I should check out my nearest dance studio?