Why is a kiss on the lips so intimate?  What about that contact of lips on lips raises goose bumps up and down my arms, while a kiss on the cheek is a mere nothing at all?  Why can a kiss on the lips be laden with more meaning than the full-fledged sex act?
I don't know.  Don't have a clue.
 What I do know is that my first kiss as a divorced woman was delivered by a cab driver. Juan Carlos was his name.  I met him when he picked up Ellen, Gary and me outside our hotel in Zihuatanejo, Mexico.  Our destination was an elegant bar high above
the town.  We could have walked, but in our dresses and high-heeled sandals, Ellen and I would have been awkward and uncomfortable.
So we flagged down Juan Carlos, who drove us up the hill.  He waited while we sipped margaritas and watched the sun slide down the sky and slip behind the hills on the opposite side of the bay.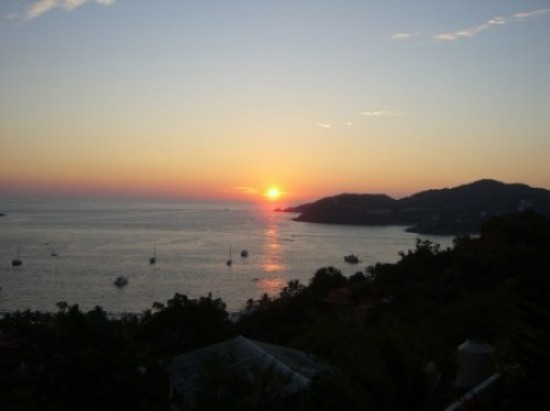 Then, he dropped us at the restaurant where we had dinner reservations and passed out of our thoughts.  Until I encountered him, on my own, the next night.
After dinner that second night, I told Ellen and Gary that I wanted to go to bed early.  These dear friends  generously  included their traumatized divorcing friend on
the annual winter break.  I wanted them to have some time on their own.
While strolling along the water's edge on my way to the hotel, I came across a bar with one side open to the night sky and to passers-by like me. A band played, dancers swayed.  I stopped to watch.  I wanted to dance, to be one of those lucky women sweeping by in the arms of a man.  The soft, moist breeze, the roll of the waves, the moonlight, all spoke of intimacy and romance.  I was alone.
When I turned to walk away, I found Juan Carlos by my side.  His way home was my way home, too.  We chatted as we walked.  When I stumbled on the cracked concrete, he touched my back lightly to steady me.  He took my arm gently to stop me while he
pointed out buildings, islands in the bay, boats moored in the harbor, and tell me their stories.
The time came for him to turn off to the left while I continued straight to the hotel.  He turned to face me, placed his hands on my shoulders, bent toward me, and kissed me.
On the lips.  Softly. Just the lightest touch on those virgin lips of mine.  Unkissed for the last 18 months.
He walked away, leaving me standing there, eyes closed, breathing one long, deep breath out of those lips that had just been kissed.  I listened to the waves, felt the moist breeze blow across my face and savored the sensation.